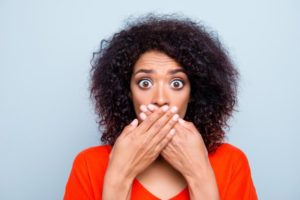 Have you ever been scared of the dentist? Whether it's due to a bad experience as a child or regular old anxiety, dental phobia is fairly common. In fact, as many as 20% of American adults have skipped out on needed dental care due to anxiety. Because this is such a common problem, your dentist in Lancaster, TX has written this guide with seven easy tips for overcoming dental fear.
1. Research Your Dentist
Not every dentist treats their patients in the exact same way. Ask friends, family, and coworkers for recommendations on a dentist with experience treating nervous patients. Search for one who offers services designed to help patients with dental phobia. You can usually find this out by checking their website.
2. Work on Relaxing
This is especially helpful if you suffer from chronic anxiety like many Americans do. Learning to relax by taking deep breaths and practicing mindfulness and meditation can do wonders for your anxiety. There are plenty of meditation and anti-anxiety apps out there that can help.
3. Be Honest
Talk to the dentist about your worries. This won't be their first or last experience with a patient who has dentophobia (fear of the dentist). Let them know the details of your fear – how long you've had, what exactly triggers it, and what you think may have caused it. The more information you give your dentist, the better able they are to help you.
4. Bring a Friend
If you're scared of the dentist, don't go alone. Let a trusted friend or family member tag along at your next appointment. Have them hold your hand or talk soothingly to you while you get your dental work done.
5. Know the Equipment
Ask your dentist about the different tools they're using and what they do. If you don't know what that tray full of sharp instruments does, it can more easily strike fear into your heart.
6. Come Up with a System
Talk with your dentist about developing a signal to let them know when things get too bad, even while they're working in your mouth. Use nonverbal communication skills like moving your hand or arm.
7. Ask for Breaks
Although it might make your appointment a little bit longer, ask your dentist beforehand if you can take breaks in the middle. Breaking up your appointment into bite-size chunks can make it more manageable.
Because dentophobia is such a common problem, your dentist is prepared to deal with patients who have it. Ask your dentist or a potential dentist how they can best treat patients like you to make your appointment as stress-free as possible.
About the Author
Dr. John Kuan is a family dentist in Lancaster, TX who studied at the University of the Pacific School of Dentistry in San Francisco. He is certified in administering both oral conscious sedation and nitrous oxide sedation to help you relax in the dental chair. If you're sick of dealing with dental anxiety, you can visit Dr. Kuan's website to learn more.