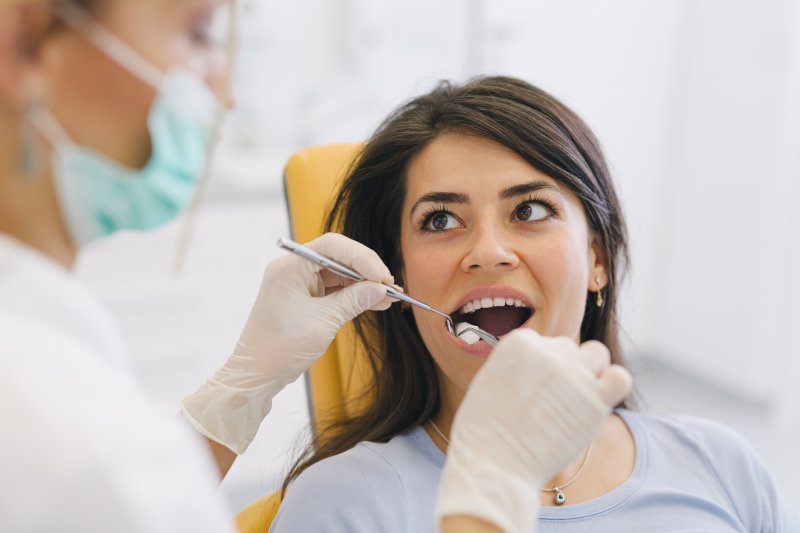 If you don't notice any problems with your current oral health, you may find it fine to skip your dental checkup. As you practice your at-home care, you may even go multiple years without visiting a dentist, thinking that you're saving money. However, consistent dental checkups are actually crucial to ensuring that no issues appear later on. Without them, you put you and your family at risk of dental problems. To learn why checkups matter from a dentist in Lancaster, keep reading!
They Help You Catch Problems Before They Can Appear
One of the biggest misconceptions about routine dental checkups is that they aren't necessary if you have no dental problems present. Unfortunately, what's particularly problematic about dental issues (such as cavities or gum disease) is that they don't really become noticeable until they've already begun to significantly damage your oral health. For example, tooth decay may be present already, even if you don't have a toothache. This is because it takes a long time for bacteria to reach the inner area of the tooth where the actual nerve lies. The nerve is responsible for triggering discomfort, and you won't feel tooth pain until a large portion of your enamel has already been eroded by decay. The same logic applies to gum tissue, which is why gum disease is often referred to as the "silent killer."
If you want to avoid a dental emergency, which includes oral infections, tooth loss, or severe tooth pain, dental checkups allow you to catch underlying problems as soon as possible.
You Save Money On Expensive Restorative Treatments
Preventive care is by far the most affordable type of dental service you can receive. This is why it's often covered up to 100 percent by most dental insurance plans. It's much easier to afford the preventive treatments that work to prevent the need for more expensive dental services, such as dental crowns and emergency root canal therapy.
If you goal is to save money on dental care, routine checkups should absolutely be on your to-do list, so restorative and emergency dental appointments are not.
You Can Confirm That Your At-Home Care is Sufficient
Many people think that they are doing what needs to be done to keep their teeth and gums healthy, but it's surprising how often this ends up not being the case. For example, many people do not actually brush for long enough or they brush too hard, resulting in enamel erosion and gum recession. They may even be using an oral care product that doesn't work well for them.
Furthermore, if there is residual plaque that didn't get removed during your at-home care, a professional dentist can remove it and provide tips on how to prevent plaque buildup in the future. If you have tartar (which is a calcified form of plaque), you should know that only a dentist can safely remove it without damaging your teeth.
Dentists are more than happy to help patients improve their at-home brushing and flossing technique, recommend personalized dental products, and suggest treatments that they think will improve overall oral health. With routine dental checkups from a family dentist in Lancaster, which include exams and cleanings, you can maintain a healthy smile for life!
About Sunny Dental
The dentists and team members at Sunny Dental care deeply about helping families and individuals achieve optimal oral health and whole-body wellness. Through routine exams and cleanings, you too can prevent the need for emergency and restorative dental services, helping you keep more money in your pocket and spend less time in the dental chair. To schedule an appointment, you can contact the office through their website.