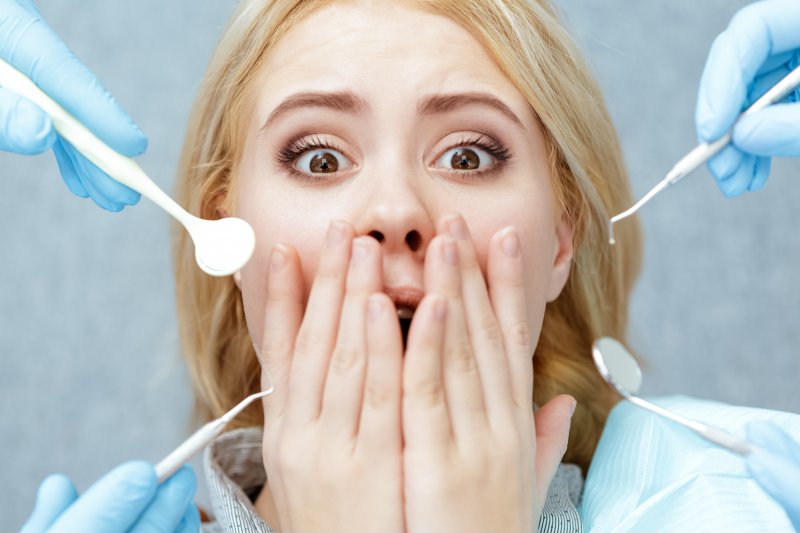 Do you struggle with dental anxiety? This issue is more common than you may think. In fact, over 30 million Americans don't go in for their regular checkups due to fear or anxiety. Sometimes this is related to a previous negative experience, fear of pain, or just feeling embarrassed. However, regular dental visits are crucial for optimal oral health. Aside from sedation dentistry, your dentist shares some tips that can help making your next dental appointment more manageable.
Listen to Music
Sometimes, the noises that are created by the dental instruments make anxieties worse. If you feel like this is the case for you, ask your dentist if you can put in your headphones. Listening to your favorite song or podcast can help you stay calm and relaxed throughout your appointment. Putting on some relaxing music before your appointment can also be helpful when it comes to reducing stress.
Talk to Your Dental Staff
If the team doesn't know how you're feeling, they won't know what they can do to help. When you explain exactly what's going on and what would make you feel more comfortable, they will be able to take steps to give you a more relaxing experience. The dental staff wants you to feel as secure as possible.
Pay Attention to Your Breathing
Many people don't realize that when they are nervous, they hold their breath. Ultimately, this reduces the amount of oxygen that you have in your body and can even make you feel more anxious. Try to meditate or use breathing exercises in order to keep you calm. Slow, regular breathing is the most effective.
Ask for a Step-by-Step Rundown
Some people are stressed when they don't know what's going on. After all, you're reclined back, and your dentist is poking around in your mouth. In order to reduce this anxiety, ask your dentist if they can tell you what they're doing as they do it. This way, you won't encounter any unwanted surprises.
Pick a Convenient Time
You don't want to be going into the dentist on a day where you have a lot going on. This will only cause you to be more stressed than you already are. Choose a day and time that works best for your schedule, so you don't need to worry about being rushed by other things on the agenda.
Use Hand Signals
It is difficult to communicate with your dentist when you have fingers and instruments in your mouth. Develop some hand signals that you can use to indicate if you want them to stop or you need to say something. This is a great way to take your appointment into your own hands.
Don't let dental anxiety hold you back from having good oral health. By taking some of these steps, you can put yourself on a path towards a healthy and beautiful smile.
About the Author
Dr. Christopher Duong earned his doctorate at the University of the Pacific School of Dentistry in San Francisco and has completed a variety of continuing education courses in several areas of the field. He offers sedation dentistry options for patients suffering from dental anxiety. For more information or to schedule an appointment with Dr. Duong, visit his website or call (469) 765-8050.