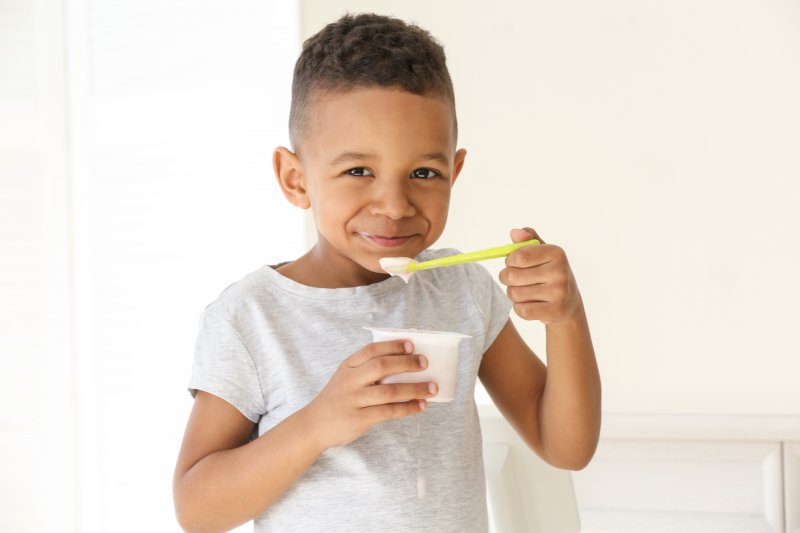 As easy as it is to break out the potato chips or heat up the snacks you have in the freezer, often times, this isn't good for your child's body or their smile. Foods that tend to be high in sugars and carbohydrates are great at causing cavities. No child wants to spend extra time in the dental chair getting fillings. Continue reading for some tooth-healthy alternative snacks from your children's dentist in Lancaster.
Yogurt
This is a great snack for kids because it is a good source of both protein and calcium. Calcium is necessary for both strong bones and teeth. It also contains live bacteria which is beneficial for the digestive system. When choosing a yogurt for your kids, you should avoid the colorful ones that are full of sugar and marketed to children. Instead, pick out a plain, full fat yogurt. You can sweeten it with fresh fruit.
Ants on a Log
This is a fun way for you to get your child to eat some vegetables. Spread peanut butter inside the celery and place a few raisins on top. This snack has a good balance of protein, carbs, and fat. Make sure you are purchasing peanut butter that does not contain added sugar.
Nuts
This snack is high in healthy fats, fiber, and antioxidants. These are all important for children as they are still growing. Some of the best nuts for teeth are almonds, Brazil nuts, and cashews. Mix up your kids' favorite.
Cheese
Cheese is made up of protein and fat. It is also a great source of calcium. Full-fat dairy foods help children to reach their nutritional requirements for magnesium, vitamin A, and vitamin D as well. This makes a great after school snack!
Smoothies
If you make them correctly, a fruit smoothie can be a great nutritional treat. For the liquid, use whole milk or almond milk. Stay away from fruit juices because they are high in sugar. Other great ingredients to add are yogurt, fresh spinach, and frozen berries. A little bit of honey can make a great sweetener.
Eggs
Eggs contain all sorts of necessary nutrients. They provide protein, vitamin B12, riboflavin, selenium, and much more. They also contain choline, which is a vitamin necessary for proper brain development. Egg yolks are a great source of vitamin D which is necessary for a healthy smile. A hard-boiled egg can make a great and easy protein-filled snack.
Carrot Sticks
Carrots are great for teeth because they help to stimulate saliva production in the mouth. Having some carrot sticks and healthy dip, like hummus, is not only beneficial for your child, but delicious too! Other raw vegetables like celery are also great options.
Instead of always reaching for processed, sugary and starchy snacks, try giving your children some of these as a healthy alternative. It will be great for their growing bodies and help to maintain their healthy, happy smiles.
About the Author
Dr. Christopher Duong is a well experienced dentist who has spent over a decade working in the field. He earned his doctorate at the University of the Pacific School of Dentistry in San Francisco and has completed various continuing education courses in a wide variety of topics, including pediatric dentistry. For more information on keeping your child's smile healthy or to schedule an appointment, visit his website or call (469) 765-8050.