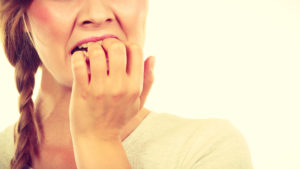 For many people, the thought of visiting the dentist can be a little unnerving. So if you're part of this population, don't beat yourself up. According to a recent study conducted by DentaVox, 61 percent of the participants suffered from some form of dental anxiety. But wait, the story doesn't end here. It turns out there are effective methods for overcoming your apprehensions. Read on to learn about 9 ways to beat your dental anxiety!
#1 – Discuss Your Feelings
If you're feeling hesitant about your dental visit, the last thing you should do is bottle it up. Let the dental staff know where you're at mentally. You're not the first patient to feel this way, and you certainly won't be the last. By sharing your concerns, you can get the help you need.
#2 – Listen to Calming Music
Amazingly, music has the ability to soothe frayed nerves, especially during a dental visit. If the sound of dental instruments is bothersome, ask your dentist if it's okay if you wear headphones. Wireless devices would be the most preferable option, as to better avoid any entanglements.
#3 – Rely on Hand Signals
Many times, a dentist will say something to the effect of, "If you feel any discomfort throughout the procedure, just let me know by raising your hand." This is a great way to reassure you that you don't have to suffer if you're in pain. So don't be shy or afraid to speak up if it's necessary.
#4 – Make Sure Your Dentist is the Right Fit
This may seem self-explanatory, but it factors greatly in your level of comfortability. By taking the time to identify a dentist whom you can trust and feel safe with, you can mitigate a great deal of dental anxiety. One way to go about this is to carefully read the patient reviews.
#5 – Monitor Your Breathing
Your breathing does more than just sustain your bodily functions. It also helps to regulate your emotions and mental disposition. Conversely, there can be a tendency to hold the breath in moments of heightened nervousness. How do you combat this? By remaining cognizant of your breathing. Make sure you're taking normal breaths, which will help you remain calm.
#6 – Request Numbing Medication
Make no bones about it – dentists always want their patients to be relaxed and comfortable. So if you tend to be a little more sensitive, don't hesitate to ask for a topical numbing medication to be applied. This will serve as added peace-of-mind.
#7 – Get All the Procedural Details
Before the dentist starts any treatment process, he or she will have a plan of action. Feel free to ask what it is. Knowing what to expect can help remove some of the feelings of helplessness and angst.
#8 – Think it Through Before Selecting an Appointment Time
Because you know your personal and work responsibilities, take those factors into account when choosing an appointment time. Aim for a slot where you'll have a little more freedom to visit your dentist without feeling rushed.
#9 – Have Something to Look Forward to
There's nothing wrong with playing a psychological trick on yourself. You can do so by rewarding yourself with a gift or some other desirable treat after your appointment is done. This is a great way to help push through any initial anxiety you may be experiencing.
A key point to keep in mind when it comes to visiting the dentist is that your appointment should be a time of relaxation. There's a reason that dentists equip their offices with comfy, reclining chairs. Although the primary aim is the improvement and maintenance of your dental health, it's still a time for you to get pampered on. By taking this more positive perspective, you can look forward to your next appointment. After all, you deserve a little T.L.C.!
About the Author
Dr. Christopher Duong is a graduate of the University of the Pacific School of Dentistry in San Francisco. As a compassionate dentist, he is constantly thinking of how to make his patients feel comfortable and calm throughout the visit. Dr. Duong provides positive experiences at Sunny Dental, and he can be reached for more information through his website.