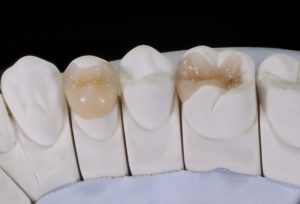 Both dental crowns and fillings are used for the purpose of fixing a tooth that has been damaged in some way, but the specific needs they serve are different. From the materials they are made out of to the levels of damage they are suited for, they have multiple distinguishable features. Keep reading to learn more about their various characteristics and the benefits of each.
How Do Dental Crowns Differ from Fillings?
Perhaps you've received a dental filling or a crown, or maybe you haven't. Either way, you may not be aware of all of the ways they differ. Here are some primary characteristics that can help you know when you might need one over the other.
Dental Crowns
You might have also heard these referred to as dental "caps," and that's exactly what they are! You can identify them by these attributes:
Material: Porcelain or ceramic
Average Cost: Between $1K and $1.5K
Purpose: Made to fit over the top of the entire tooth, crowns are typically used when there is significant decay that has happened to a tooth, and a greater amount of enamel needs to be removed. As long as the root of the tooth is still visible and healthy, a dental crown is a great option to help avoid a root canal.
Process: Your dentist will first examine and prepare the affected tooth by filing away any decay. Next, they make an impression of the altered tooth and the surrounding teeth. While the final prosthetic is being crafted by lab professionals, your dentist will provide you with a temporary crown. Once the permanent one is ready, they will adhere it to the tooth. If cared for properly, crowns can last up to 15 years before needing to be replaced.
Now that you know how dental crowns work and what the process looks like, read on to learn more about fillings.
Fillings
Fillings are a very common dental procedure. There is a good chance you've had one or more within your lifetime, and here are the details:
Material: Custom tooth-colored composite resin
Average Cost: Between $150 and $550
Purpose: Dental fillings are designed to treat cavities by removing and preventing further decay. These are most helpful when a tooth has suffered minor damage from deterioration of the enamel.
Process: If your dentist locates a cavity on one of your teeth, they will start by scheduling an appointment for you to have it filled. During the treatment, they will remove the existing decay, much like they would during the crown process. Instead of a dental prosthetic, they will simply fill the missing hole with a tooth-colored composite resin that will be completely invisible to the naked eye. Over time, the filling may need to be replaced, as additional decay may take place under the filling.
If you do have crowns or fillings, it's important to see your dentist for regular checkups and cleanings so that they can make sure your dental restorations are in good condition.
About the Practice
If you're searching for the highest quality of dental treatment that Lancaster has to offer, then look no further than the team of experts at Sunny Dental. They will stop at nothing to make you comfortable and assure you that you are in the best of hands. They have years of training and experience when it comes to restorative dentistry, and they're here to keep your smile looking beautiful for years to come. Are you ready to schedule your next dental checkup? Request an appointment online or call (469) 765-8050.